Two Franks: A Tribute to Frank Sinatra & Frankie Valli @ Boca Black Box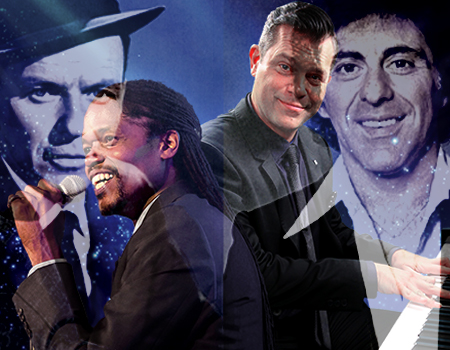 Hosted by Dave Damiani and the No Vacancy Orchestra, with Special Guest and America's Got Talent WINNER, Landau Murphy Jr.!

We will play hits from Jersey's best known Jersey Boys let by "South Jersey's Own" Dave Damiani. Landau Murphy Jr. WINNER OF AMERICA'S GOT TALENT and Dave Damiani CBS VEGAS XM 70 SIRIUSLY SINATRA will perform songs from Frank Sinatra, Frankie Valli, and other great hits from the 60s and 70s that are staples from the Garden State!

SPECIAL GUEST TBA

--

Frank Sinatra was arguably the most important musical figure of the 20th century, his only real rivals for the title being The Beatles and Elvis Presley. In a professional career lasting 60 years, he demonstrated a remarkable ability to maintain his appeal and pursue his musical goals despite countervailing trends. He came to the fore during the swing era of the 1930s and '40s, helped to define the "sing era" of the '40s and '50s, and continued to attract listeners during the rock era that began in the mid-'50s, and beyond.

Oh, what a story. Frankie Valli, who came to fame in 1962 as the lead singer of the Four Seasons, is hotter than ever in the 21st century. Thanks to the volcanic success of the Tony-winning musical Jersey Boys, which chronicles the life and times of Frankie and his legendary group, such classic songs as "Big Girls Don't Cry," "Walk Like a Man," "Rag Doll," and "Can't Take My Eyes Off You" are all the rage all over again.

But who could imagine that the first 45 years would be only the beginning—that Frankie Valli would celebrate 2007 with a new album and a heavy sold-out concert schedule? No other pop star has ever received the kind of new lease on life that Jersey Boys has given Frankie Valli.

In addition to the three current productions of Jersey Boys, plans have been laid to take the play to London, Las Vegas and Toronto for open-ended runs. And producers are clamoring to bring the musical to Australia, Singapore, China and even Dubai—yes, the Dubai that's part of the United Arab Emirates. Every major Hollywood studio has asked about making a Jersey Boys movie.