Psychic Medium Tessa DelZoppo LIVE with the Other Side @ Boca Black Box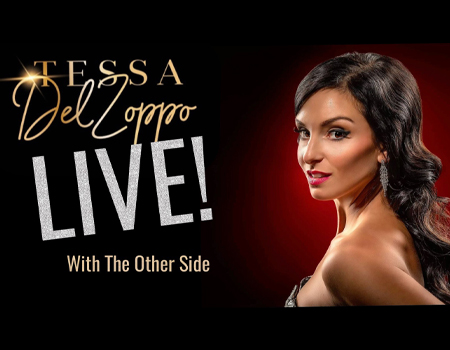 Around the age of four, after a near-death experience, Tessa began seeing and communicating with spirits.

She was always very drawn to the paranormal world from a young age due to her constant interaction with spirit- and would frequently be asked to come to locations that experienced a lot of activity— to read the location and find out who or what was around. Tessa's role as a medium began to take many different avenues— from private readings to paranormal work, as well as criminal investigations involving missing persons and homicides.

Tessa's career took off as she began reading people nationally and internationally around the world. From podcasts to local radio stations, Tessa began to connect with large audiences. Due to her background in the entertainment world as a dancer and an aerialist, she was always drawn to the stage. She knew for a very long time she wanted to be able to create a venue where people can witness spirit communication first hand, which is when she decided to take the stage. Tessa began reading large live audiences in different venues— eventually leading to her live casino show, "A Glimpse" which started to tour in 2020. When the COVID-19 pandemic hit, Tessa transformed her live show into a podcast called "A Night with a Medium." She then continued her live casino/venue shows as "Tessa DelZoppo: LIVE! With The Other Side" which is currently touring.

Tessa has read and hosted many celebrity faces in the entertainment world— actors from HBO's famous series "The Sopranos", TV personalities such as Bridget Marquardt, comedians, Disney animators, Cirque du Soleil performers, Broadway faces, and paranormal TV personalities. Tessa's career continues to grow, and her continued passion for her ability as a medium continuously allows her to reach more and more people throughout the world.

In October 2021 Tessa married Nick Groff (of Ghost Adventures, Paranormal Lockdown, Death Walker). Tessa has appeared on Nick's hit show "Death Walker" as the medium during investigations at The Myrtles Plantation and The Northeastern Hospital (where Tessa had her near-death experience as a child'). The "paranormal power couple" has done multiple live venue shows together and created their web series "Deadtime with The Groff's" (airing on YouTube & Facebook).

Tessa's goal as a medium is to validate evidentially that our loved ones ARE around—and that they are safe and at peace. Tessa's ability is meant to bring healing and closure by connecting our world to the spirit world— and also to shed light on that burning question: "what happens when we die?"