Dave Damiani's Pop-Up Speakeasy w/Sal Valentinetti & Landau Murphy Jr. @ Boca Black Box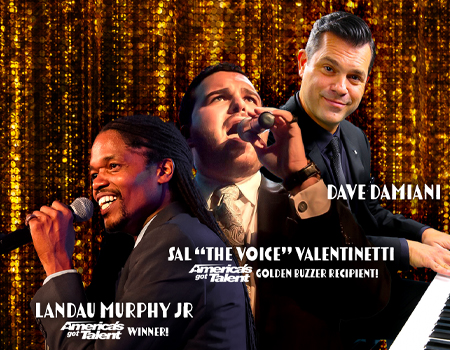 Hosted by Dave Damiani and the No Vacancy Orchestra. This Rat Pack-styled show with songs from the 50s to the 2000s. If you like Post Modern Jukebox, Michael Buble and Harry Connick Jr, you will love Dave Damiani's POP UP SPEAKEASY...

Dave Damiani has produced records for Sal "The Voice" Valentinetti, Haley Reinhart, Landau Murphy Jr, Kate Flannery from NBC's The Office, SNL Legend Joe Piscopo, Bobby Rydell, Aubrey Logan, Post Modern Jukebox's - Maiya Sykes, Erin Boheme, Playboy Magazine's Renee Olstead, and many more. His music can be heard around the world on XM70 Siriusly Sinatra and on terrestrial radio.

With special guests (The Modern Day Rat Pack):
Sal "The Voice" Valentinetti - Finalist of America's Got Talent and host of the new internet series "Get In The Car." Golden buzzer recipient from Hiedi Klum.

America's Got Talent Winner - Landau Murphy Jr. In 2011, Landau Murphy Jr won America's Got talent and has gone on to perform all over the world.