Holiday Jukebox w/Special Guest DONNY MOST @ Boca Black Box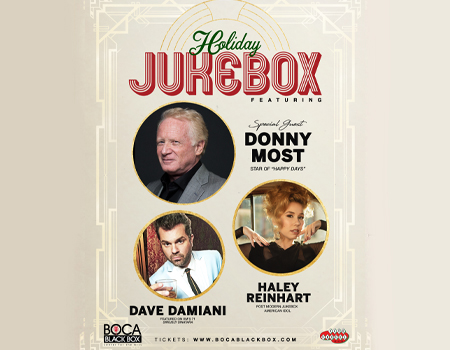 W/Special Guest DONNY MOST! Starring Post Modern Jukebox's and American Idol's Haley Reinhart and Boca's own Dave Damiani and his NO VACANCY ORCHESTRA from XM 71 Siriusly Sinatra.

We will play holiday hits and other "just hits" with narration and performances by Don Most, Haley Reinhart and Dave Damiani (possible additional special guests to be announced later).

-

SPECIAL GUEST DONNY MOST
Don Most is probably best known for his co-starring role as Ralph in the long running television series "Happy Days". During this time, he worked with such emerging talents as Ron Howard and Garry Marshall. More recent credits include the film Man's Best Friend, where Don plays defense attorney Ian Tapper. It premiered on Amazon Prime early in 2020. He also stars in the film Lost Heart which was just released on Amazon in December of 2020. In 2021 so far, Don has appeared in four films - When George Got Murdered, ParallaxTale, Lifetime's: Holiday In Sante Fe, and County Line: No Fear. Other recent credits include a recurring role on the hit TV show – Glee, as well as starring roles in the indie films – Cult Cartel, The Yankles, Campin Buddies, and Follow.

Most's other feature film credits include ED TV, directed by Ron Howard; Crazy Mama, directed by Jonathan Demme, and The Great Buck Howard, starring John Malkovich. In recent television, Don shot the TV Pilot: Puckheads. Another pilot - "Harvest Time" in which he stars opposite Anson Williams, just premiered on YouTube, as well as "Old Buddies" starring opposite Robert Wuhl and Gail O'Grady as part of the new web series "Viral Vignettes".

Other guest starring roles include Men Of A Certain Age, Star Trek: Voyager, Yes, Dear, The Crow, Sabrina, Sliders, Century City, Dark Skies', and The Family Guy. Don also has a CD out: "D Most Mostly Swinging". It features an outstanding 17 piece band comprised of some of the top jazz/studio players in Los Angeles. He is currently working on a new CD with Nashville based producer, Tony Mantor. It will feature some jazz standards in a contemporary jazz setting, along with some classics from the 60's and 70's.