A Brother's Revival: The Music of the Allman Brothers @ Boca Black Box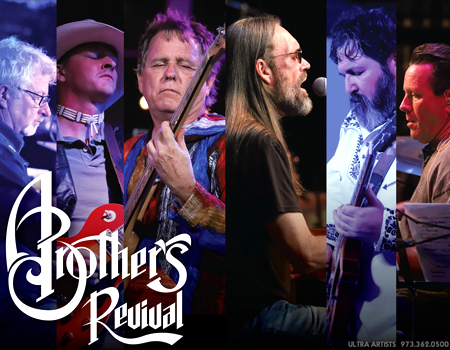 A Brother's Revival came together in 2019 as a celebration of the 50th Anniversary of The Allman Brothers Band. Former member, David Goldflies (78-82) and Mike Kach (singer/keyboard for Dickey Betts and Great Southern) joined forces to honor David's former band. It is the most authentic Allman Brothers Band tribute that includes the fan's favorite songs in their original format, just as they were performed when David toured with Greg, Dickey, Butch and Jaimoe.

A Brother's Revival performs all of the fan favorites, including Ramblin Man, Melissa, In Memory of Elizabeth Reed, Southbound, Whipping Post, Blue Sky, One Way Out, Soulshine, Revival and so many others. The stage is set up just as The Allman Brothers Band set the stage during their most iconic years, including dual drum kits, timpani and a Hammond B-3 organ. No detail is overlooked.

There are many ABB tributes on the market, but none that has a musical director who recorded and toured with the group. As for vocals, Mike Kach has been Dickey Betts choice to sing Gregg's songs in his band, Great Southern for the past 15 years. This is what makes A Brother's Revival the most authentic tribute to The Allman Brother Band.