Livingston Taylor & Jonathan Edwards @ Boca Black Box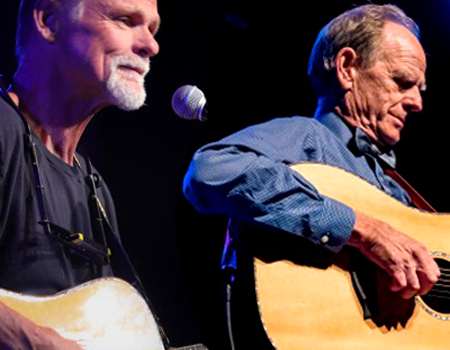 PRESENTED BY MUSICWORKS CONCERTS!

Livingston Taylor
From top-40 hits "I Will Be in Love with You" and "I'll Come Running," to "I Can Dream of You" and "Boatman," the last two recorded by his brother James, Livingston's creative output has continued unabated. His musical knowledge has inspired a varied repertoire, and he is equally at home with a range of musical genres—folk, pop, gospel, jazz—and from upbeat storytelling and touching ballads to full orchestra performances.

Livingston has never stopped performing since those early coffeehouse days, shared the stage with major artists such as Joni Mitchell, Linda Ronstadt, Fleetwood Mac, Jimmy Buffett, and Jethro Tull, and he maintains a busy concert schedule, touring internationally. He is a natural performer, peppering his shows with personal stories, anecdotes and ineffable warmth that connect him to his fans. His relaxed on-stage presence belies the depth of his musical knowledge, and fans might just as often be treated to a classic Gershwin or something from the best of Broadway.

Jonathan Edwards
Warm as summer sunshine, real as the truth, intimate as a long overdue visit between old friends ... such is a Jonathan Edwards concert. Four decades into a stellar career of uncompromising musical integrity, the man simply delivers, night after night - songs of passion, songs of insight, songs of humor, all rendered in that pure and powerful tenor which, like fine wine, has only grown sweeter with age.

-

MusicWorks connects classic rock and folk artists with the audiences that appreciate the music of the 60s and 70s. MusicWorks is not about nostalgia, we're about the power of the live entertainment experience. How for a few hours music is all that matters!