CCW Presents: Nightmare on Park Avenue @ Lake Park Black Box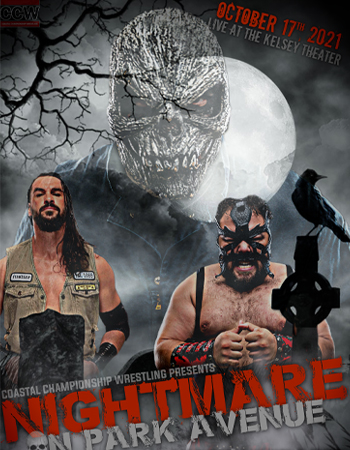 >> 6PM BELL TIME <<

Matthew Justice, has been competing on All Elite Wrestling, is the current GCW Tag Team Champions with the Second Gear Crew, is THE TALK of professional. He's BACK, at CCW Presents: Nightmare on Park Ave, and he's demanded a No Rules, Hardcore match. CCW has granted it!

Also, The Maker of Nightmares Agony will be competing in a CASKET MATCH. Bring your parents, bring your children, bring your costumes to the wildest night of professional wrestling in Florida.

Watch stars like ECW Legend Bill Alfonso, Cha Cha Charlie, Jackal Stevens, Charismatic Chris Farrow, Alex Ocean, The Brazilian Giant, Will Austin, Lakay, Tiffany Nieves and more, while you cheer, boo, and enjoy one of America's favorite pastimes, professional wrestling.

CCW has been recognized as Florida's top independent professional wrestling company for over 17 years.

Our competitors compete weekly on our web show CCW Alive Wrestling, every Tuesday night at 7pm.