Ticket to the Moon: The ELO Experience @ Boca Black Box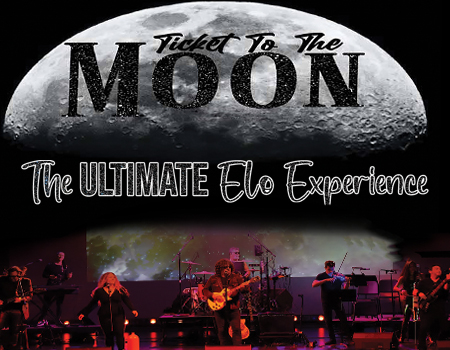 The ultimate tribute to a band that has captivated fans for years - Electric Light Orchestra!

Songs include hits like Mr. Blue sky, Telephone Line, Living Thing, Don't Bring Me Down and many, many more, plus some of the deep cuts that Jeff Lynne wrote during the 1970's and 1980's; all performed to their original arrangements by a band that has entertained audiences worldwide.

We guarantee you will jump out of their seats to clap, sing, and dance to the music by one of the most prolific artists of all time in this authentic, timeless live Multimedia concert experience.

THE MEMBERS OF THE BAND HAVE WORKED AND SHARED THE STAGE WITH Chuck Berry, Jerry Lee Lewis, Julio Iglesias Jr, Rock Of Ages, Jennifer Lopez, Foreigner, Trans-Siberian Orchestra, Wyclef, Raul Di Blasio, il Volo.Trans Siberian Orchestra, Michael Bublé, Josh Groban, Andrea Bocelli, Earth Wind & Fire, Ricky Martin, Disturbed, Katharine McPhee, Sarah McLachlan, Rod Stewart, Ron Thal (Guns & Roses/Sons of Anarchy), Marco Mendoza (Whitesnake/Thin Lizzy), and Guthrie Govan, Joel Denis, Pierre Lalonde, Michel Louvain, Michel Stax, Patrick Bourgeois...amongst many others!

You will not want to miss this experience.