The Mystics & The Mystics Band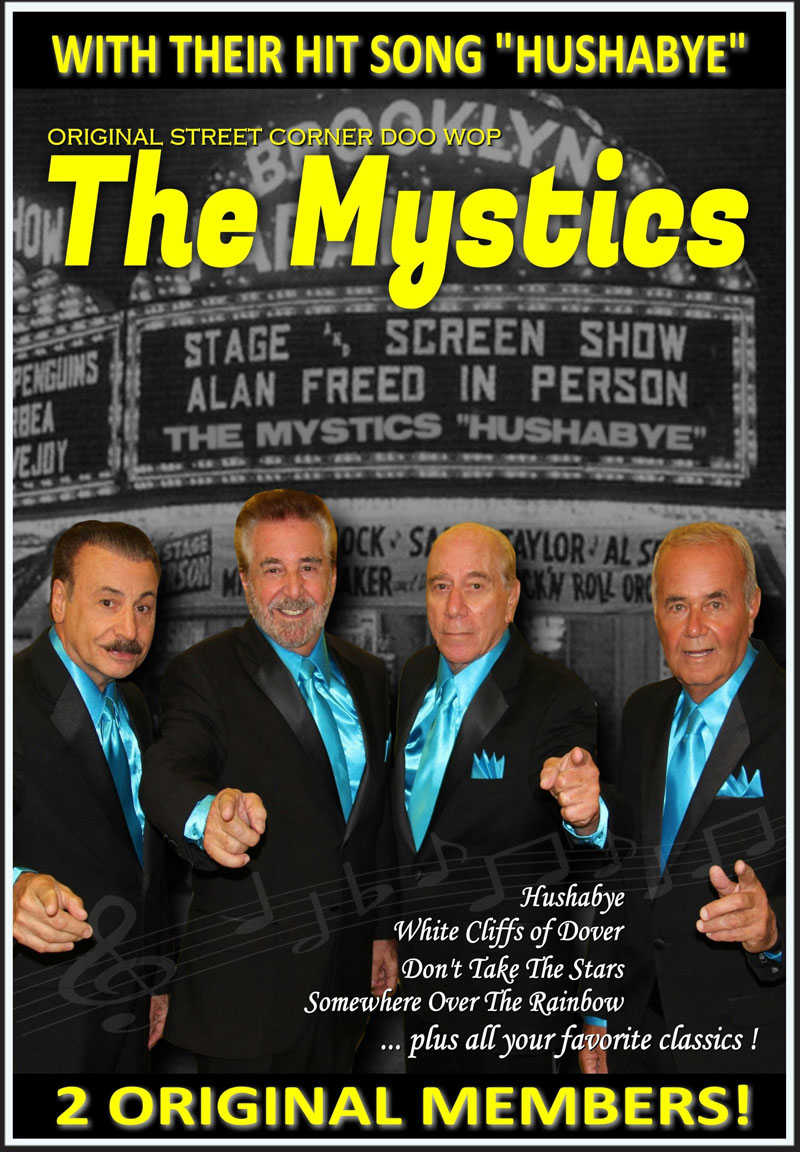 The MYSTICS have dazzled fans for decades with their rock and roll classics, playing to captivate audiences and thundering applause from coast to coast.
The MYSTICS legacy continues in 2019 as they celebrate their 60th anniversary of their 1959 mega seller hit HUSHABYE which reigned on the charts for six months and their 62nd year in the music and entertainment industry. Today 2 Original members & Doo Wop Music Hall of Famers – George Galfo & Phil Cracolici look back with pride & a new day has begun in keeping those harmonies coming. Joining Phil & George are Rocky Marsicano (formerly of Lenny Cocco & The Chimes, Jay Siegal & The Tokens, & Manhattan Skyline), Ralph Varrone (formerly of N.Y. premiere show group "Risky Business")
The MYSTICS have withstood the test of time & continue to bring to their music to their fans
... to be part of the audience is an experience within itself ... a trip down memory lane for all
ages! ... Let us go back in time to 1959. The key words here are doo-wop and harmony – light,
simple & ever so beautiful. It was the late 50's & the words were heard on the airwaves and
fans sung along "Hushabye, hushabye – oh my darling don't you cry, Guardian angel from
above – take care of the one I love".
The sound of "The MYSTICS" still harbor the soft breezes of harmony perfection & the
audience's embrace & applause continue to shine a glow and as "The MYSTICS" continue in
their quest of keeping the sounds of harmony doo-wop alive in our hearts!
The MYSTICS recreate their many appearances on Dick Clark's American Bandstand and sing their
own hit records like "Hushabye", "The White Cliffs of Dover" , "Sunday Kind of Love" and "Don't Take
the Stars."
The MYSTICS "HUSHABYE" reigned 6-month on the charts was featured in the movies Mr. Rock and Roll--The Alan Freed Story and "Stand By Me"!
Younger fans also came to know and love The Mystics' recording of "Over the Rainbow" from its prominent use in the hit TV show The Sopranos.
To see the MYSTICS on stage is POSSIBLE, to forget the MYSTICS is IMPOSSIBLE!