Majesty of Rock: The Music of Journey & Styx @ Boca Black Box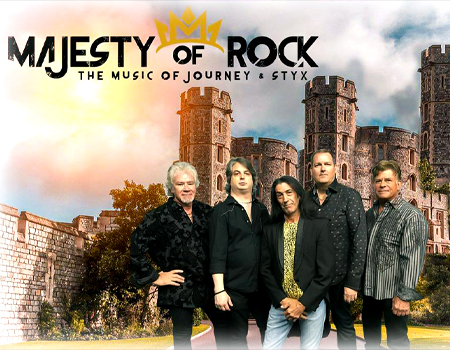 It all started when Chain Reaction banded together in South Florida and began re-creating the sounds of the American super group, Journey. They wanted to pay special homage to Journey's best years (1977-1998), when Steve Perry fronted the band.
The amazing voice of John D'Agostino, coupled with the exceptional musical talents of four equally sophisticated and experienced musicians soon propelled Chain Reaction to become one of the premier Journey reverence bands of our time. The band strives to re-create the exact sounds and nuances of Journey. Their passion for authenticity and attention to detail go a long way toward ensuring that the audience feels like they're at a real Journey concert.
While the band has enjoyed performing the music of Journey, front man John D'Agostino also loves another American super group, Styx. Turns out the rest of the band are huge Styx fans, too. So they began adding some of Styx's best tunes to their already expansive repertoire of Journey material. The audience response was so positive, that Forever Styx was eventually added as a separate tribute band.
Now you really CAN have it any way you want it: Majesty of Rock performing a Journey/Styx concert extravaganza, Chain Reaction, the ultimate Journey reverence band, or Forever Styx. Take a journey with us back to the days of arena rock at it's best.