Comedian Vicki Barbolak @ Boca Black Box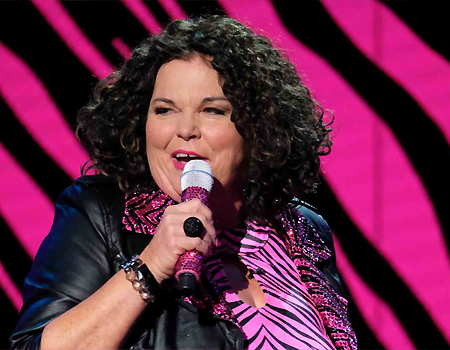 You've seen her on America's Got Talent… now see her live! Vicki Barbolak was a fan favorite and TOP 10 finalist on the 2018 America's Got Talent Show. Howie Mandel told Vicki and America, "I think you just came up with your own sitcom, you're wonderful I love you." And Simon said, "I think you're the best comedian we've had on this show." She was also featured on season 1 of America's Got Talent, The Champions in 2019. And, Vicki was chosen to compete on the first season of Britain's Got Talent, The Champions. Come and see for yourself.

When Vicki was 38 years young, she saw an ad for a stand-up comedy class. That class changed her life. Vicki quickly realized that making people laugh gave her more happiness than she ever dreamed possible. After a few years of open mic nights, Vicki was taken under the wing of Mitzi Shore, owner of The Comedy Store where Vicki developed as a Comedian. In the 20 plus years since, Vicki was named a member of Jay Leno's NBC Laugh Squad, Won Funniest Mom In America on Nick @ Nite, and E! Television in the True Story of the Comedy Store named Vicki to be the Next Breakout Star to come from The Comedy Store.

Vicki's comedy reflects life as Mom, her many marriages, and her love of the Southern California Trailer Park Lifestyle.