Lavender Fields Sleepy Tiger Tour @ The Box 2.0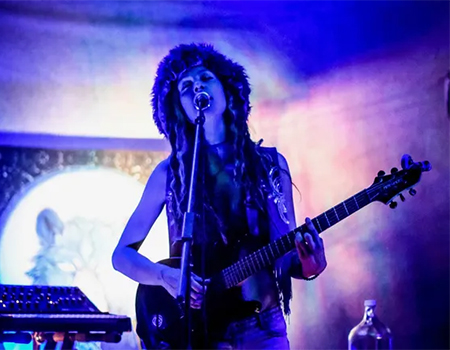 "Lavender Fields' music offers a joyous message of transcendent harmony and global enlightenment that's hard to come by. Enigmatic and thought-provoking, Lavender Fields' music beckons you to walk with her on this path, while keeping you entranced throughout the ride."

Lavender Fields is a producer, singer-songwriter and multi-instrumentalist who creates ethereal portals of sonic beauty, transcending time and space. Her spellbinding performances are accompanied by her playing the keys, flute, guitar, singing and live mixing of live electronic music.

Lavender Fields' captivating genre-bending live electronica experience is created as she fuses analog hardware with the innovations of electronic music guided by the intention to heal.

The creator's journey began with her foundations in classical music and has since alchemized with many of her inspirations, from the mystical classical compositions of Tchaikovsky to the timeless beats of Bob Marley. Flying Lotus' experimental electronica inspired Lavender Fields to explore, create and fuse sounds with the Moog analog synthesizer.

Her ultimate goal in music is to share a positive message with the world. Her passion for the environment is also expressed through her project "Light Up The World" where she plants lavender in every city she tours.