BARCLAY Performing Arts Presents: Disney's NEWSIES JR. @ Boca Black Box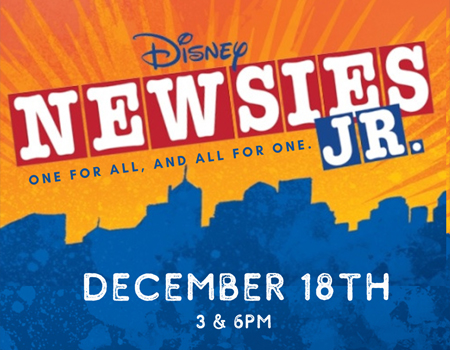 BARCLAY Performing Arts proudly presents DISNEY'S NEWSIES JR, the hour-long adaption of the smash Broadway musical based on the 1992 film inspired by the rousing true story of newsboys in turn-of-the-century New York City. You will NOT want to miss our talented cast of 30 students (ages 8-13) under the leadership of Christine Barclay, Jason Pierre, Sara Perry, Ed Kolcz, and the rest of the passionate BARCLAY staff!

"Watch what Happens" when powerful newspaper publishers raise prices at the newsboys' expense and the charismatic Jack Kelly rallies newsies from across the city to strike against the unfair conditions. Including the now-classic songs "Carrying the Banner," "Seize the Day," and "Santa Fe," Newsies JR. brings to life a story about kids, told by kids. Bringing together a fierce tribe of children from our community to use their voices together to create change... it's a story about kids who change the world... together.

Find YOUR voice, and rally with the BARCLAY troops for an unforgettable and invigorating theatre experience, sure to give you the full dose of excitement, joy, and heart you need this holiday season!

Meet the NEWSIES and the rest of our INCREDIBLE cast!
Allie Artel - Muriel
Isabelle Bittencourt - Pat, Darcy
Cecelia Canfield - Tommy Boy
Melissa Chaves-Brandao - Nancy
Anthony Cirisano - Jack
Ruthie Epstein - Buttons
Colette Fischer - Jo Jo
Ezra Gilmore - Davey
Jonathan Hammond - Seitz
Joshua Hammond - Les
Mila Himebrook - Medda Larkin
Karina Kopacz - Ada, Scab, Female Swing
Adam Mackenney - Spot Conlon
Dallas Maurer - Race
Dylan Brooke Mayer - Hannah
Asher Morales - Romeo, Male Swing
Alexa Mundarain - Morris
Karina Mundrain - Pulitzer
Lucas Naporko - Crutchie
Bella Pina - Katherine
Ryleigh Renard - Ethel, Scab
Danielle Rothman - Oscar
Eliana Rothman - Wiesel
Alana Schwartz - Olive, Scab
Sydney Schwartz - Bunsen
Addison Smith - Hazel
Mila Toniolo Pizzato - Specs
Juliana Yacoub - Pigtails
Marco Zummo-Hurley - Albert

.... and of course.... there are surprise guest stars!

In the summer of 2020 we did the full-length Broadway musical and it shook the Box with its vibrancy and heart. Coming out of the pandemic, join us as we relive those incredible memories and pass the torch to the new wave of BARCLAY Kids & Tweens. As they sing in NEWSIES... at BARCLAY, your friends are more like family... and we can't wait to bring this baby home. See you in December!