BARCLAY Performing Arts Presents: Disney's FROZEN Kids @ Boca Black Box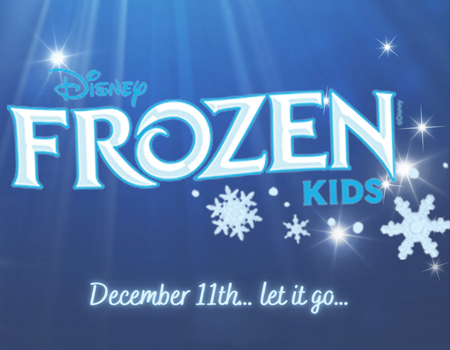 BARCLAY Performing Arts is proud to kick off the holiday season with DISNEY'S FROZEN KIDS! Featuring our talented cast of 40 students (ages 5-11) and under the leadership of Christine Barclay, David Taustine, Jason Pierre, Keren Lydia, and the rest of BARCLAY's powerhouse staff... this production features your favorite songs from the animated film, as well as new songs from the Broadway production that will warm even a frozen heart!

Join Anna, Elsa, Olaf, Sven, and all of your favorite characters as they embark on an epic, ice-filled journey of self-discovery, camaraderie, and the real meaning of true love. This production of Frozen KIDS is sure to prove that "some people are worth melting for" and is the PERFECT event for families to enjoy this holiday season! We promise you a full dose of joy, love, and heart-warming performances by our youngest community members.

Meet the FABULOUS Cast!
Lily Alcalay - King Agnarr, Elsa U/S
Emma Beardsley-Dodd - Hidden Folk 1
Hannah Beynenson - Hidden Folk 2
Jacob Beynenson - Pabbie
Daniela Boucher - Handmaiden, Castle Staff
Madelyn Clayton - Sven
Sydney Coffman - Storyteller 1, Castle Staff
Evie Da Silva - Storyteller 2, Castle Staff
Mia Delgadillo - Young Elsa
Shane Emihovich - Hans
Maya Epstein - Bulda
Charley Evans - Townsperson 1 & 6, Castle Staff
Harper Gray - Butler, Castle Staff
Cayla Greenspan - Bishop
Summer Gubenko - Young Anna
Jaime Holzman - Duke of Weselton
Bruna Itaqui - Townsperson 2 & 7, Castle Staff
Laura Itaqui - Elsa
Leyah Kesselman - Middle Elsa
Aristotle Kincaid - Castle Staff
Sarah Kolotkin - Olaf
Skylar Levine - Storyteller 3, King Agnarr & Queen Iduna U/S, Castle Staff
Ava Lipson - Hidden Folk 3
Harper Lipson - Hidden Folk 4
Eden Miller - Hidden Folk 5
Danka Mirkovic - Hidden Folk 6
Arabella Oliva - Hidden Folk 7
Avery Peltz - Hidden Folk 8
Brianna Perello - Middle Anna
Hayden Rochman - Townsperson 3 & 8, Castle Staff
LunaJoy Schmidt - Townsperson 4 & 9, Castle Staff
Andrea Sepulveda - Townsperson 11, Castle Staff
Sara Sepulveda - Queen Iduna, Anna U/S
Piper Shlisky - Townsperson 5 & 10, Castle Staff
Rowyn Stein - Storyteller 4, Castle Staff
Lily Stoff - Steward, Castle Staff
Hayley Wasserman - Anna
Sydney Wasserman - Housekeeper, Castle Staff
Liat Weinstein - Cook, Castle Staff
Marco Zummo-Hurley - Kristoff
....and of course... they entire cast (and audience!) will be a part of the Snow Chorus!

We will see you in Arendelle for a magical journey this Holiday Season!