A New Year's Extravaganza ft. Postmodern Jukebox's Haley Reinhart, Dave Damiani & The No Vacancy Orchestra @ Boca Black Box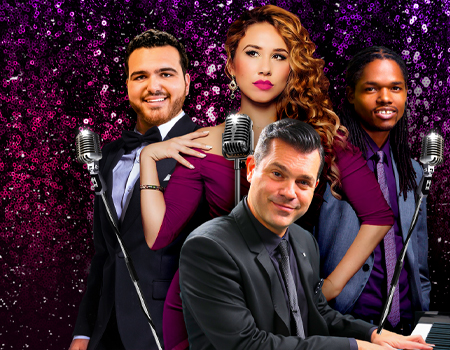 With Special Guests America's Got Talent Winner, LANDAU EUGENE MURPHY JR. and Golden Buzzer Recipient
SAL "THE VOICE" VALENTINETTI!
LINEUP
Friday, December 30, 2022, 6:00PM & 9:00PM
Haley Reinhart,

Landau Eugene Murphy Jr

., Dave Damiani & The No Vacancy Orchestra
Saturday, December 31, 2022, 7:00PM & 10:00PM
Haley Reinhart, Sal "The Voice" Valentinetti, Dave Damiani & The No Vacancy Orchestra
---
Come Celebrate Pre New Years and/or New Year's Eve Celebration with America's most talented artists that you have seen on America's Got Talent, The Voice, American Idol and many others. Hosted by
Dave Damiani and his No Vacancy Orchestra
(XM 70 Siriusly Sinatra, Sinatra 100, Peggy Lee 100, Nat Cole 100) . Featuring America's sweetheart, Platinum Recording Artist, Haley Reinhart! Also starring AGT's Sal "The Voice'' Valentinetti and AGT Season 6 winner Landau Murphy Jr. Come listen as we take a journey through the music of pop, R&B, Rock & Roll and Jazz Standards.
Haley Reinhart
has performed with Post Modern Jukebox she is an American singer who is best known for her cover of Elvis Presley's "Can't Help Falling in Love." She rose to fame through her performances on "American Idol," one of the country's biggest talent shows. Coming from a family where almost everyone is a musician, she was encouraged to pursue her love for music from a young age. Haley first tried her luck in the ninth season of the show 'American Idol' but she could not get to the Hollywood round. Undaunted, she auditioned again the next season and finished among the top three finalists. During her time on the show, Haley was known for her "sassy" attitude and for standing up for herself against the judges. She received very harsh comments almost every week and became equally vocal with her "sassy" responses. Her self-esteem and confidence won her several admirers from the celebrity circle including Tom Hanks. She also received lots of votes from the public. After her successful stint at the American Idol, she picked up a contract with the "Interscope Records" and released her debut album 'Listen Up!' in May 2012. Later she signed a contract with music publisher Ole and ICM Partners. She is also the very first American Idol contestant to have performed at the "Lollapalooza" feat.
Landau Eugene Murphy Jr.
is an American jazz singer from Logan County, West Virginia. He received national attention for winning the sixth season of the NBC reality show America's Got Talent. Landau has released a total of 4 albums since his victory in 2011. Landau used his free time during the COVID-19 pandemic to earn his high school diploma and serves as an advocate for adult education in the state of West Virginia with the West Virginia Department of Education's "It's Never Too Late to Graduate" campaign. Landau continues to advocate for adult education, offering the official Landau Eugene Murphy Jr. Scholarship at Southern West Virginia Community and Technical College in his hometown of Logan, West Virginia. Following his time on America's Got Talent, Landau has continued to host a series of charity events around the state of West Virginia. Landau has since performed around the world, having played in Shanghai, China in 2013 and at the World Expo in Dubai in 2022. Landau continues to perform around the country annually and wraps up every year with a Holiday tour across his home state.
Sal "The Voice" Valentinetti
is an Italian pizza delivery man for his cousin's place from Bethpage, New York. He wants to bring back Dean Martin-style roasts. Sal first learned the American standards at his grandmother's knee and his passion grew further when he discovered his hidden vocal talent in his teenage years. Yet Valentinetti wasn't always aware of his talent. It was during a horn lesson at 15 when it was uncovered by Dr. Joseph Merkel, a prominent private music teacher and performer, in Long Island and the NY metro area. Dr. Merkel asked him to choose a song to play and Valentinetti started singing the lyrics to a song he used to listen to with his grandmother: Bobby Darin's "Mack the Knife." Taken aback, Dr. Merkel immediately urged him to take singing lessons as well as brass lessons. "Sal the Voice," as he is known by everyone from Brooklyn to Bayshore, can be found on most Sundays sipping cappuccino at the café, telling stories, making jokes, and planning his next move - to bring back to American pop culture the consummate, classy, old-school entertainer with a heart of gold.
NEW YEAR'S EVE AFTER-PARTY
12:30AM - 3:00AM
Stay and celebrate the ball-drop with Haley Reinhart, Sal Valentinetti, and Dave Damiani!
Includes:
- Personal Meet & Greets and photos with Haley Reinhart and Sal Valentinetti
- Open Bar and Buffet
- Karaoke
Entrance: $250.00
After-Party ticket does not guarantee you a seat(s) for the show.

Tickets for the show must be purchased separately.