Homeschool Dropout World Tour with Comedian BASILE @ Lake Park Black Box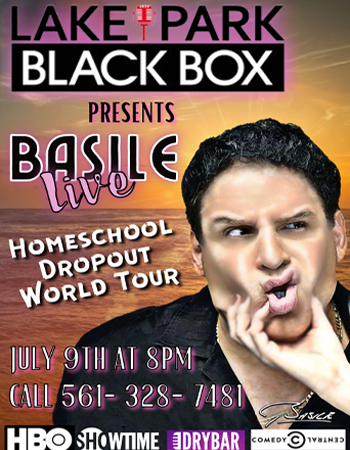 Just back from his tour throughout Europe this past Spring and Australia this past Fall and now touring North America on his "Dysfunctionally Yours" World Tour, Basile has been busy with his personal appearances and developing programming for cable TV. Fresh off of filming his new situation comedy TV show for SpiceRack Entertainment, Basile is perhaps one of the most diverse entertainers in the world! Basile has entertained millions of comedy fans in the United States, Canada, Europe, Australia, and Africa. Basile's unique blend of material, improvisation, and characters has made him one of the most sought after comedians in the entertainment industry today.

Basile's general audience show, "Dysfunctionally Yours" World Tour, is currently touring to sold-out audiences throughout North America. Basile's diversity in entertainment continues as he stars in his critically acclaimed series, "Growing Up Greek in America." This comedy series is spoken in Greek and English and to date has sold over a million copies and is distributed worldwide. Basile's voices and characters have been heard on Armed Forces Radio, Television, and Syndicated Radio as the voice of: "The God Father Of Soul, James Brown" in North America, and his comedy segments on XM/Sirius Satellite Radio.

Basile has over 100 television appearances throughout the world, including: HBO, Showtime, Comedy Central, A & E, andthe Tonight Show on NBC to name a few. Basile is also known for his voice work as Universal Studio's Bullwinkle J. Moose, as well as for the Cartoon Network and many Japanese Anime series. Recently, Basile was recently nominated for an EMMY for his work on ESPN's "30 for 30" series segment, "The Legend of Jimmy the Greek", as the voice of Jimmy "The Greek" Snyder (Syionidis).