The Italian Jewish Christmas Show! Starring Will & Anthony Nunziata and Jessica Kirson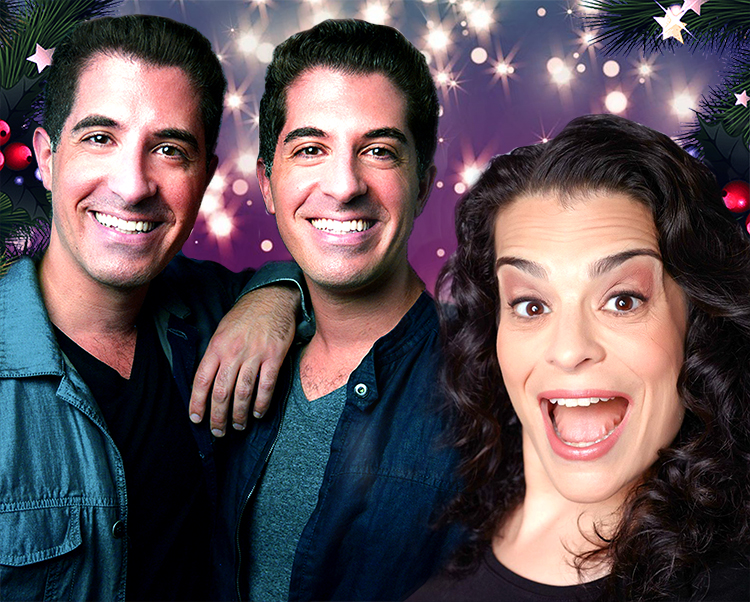 "The Italian Jewish Christmas Show!" is one part Jewish comedian, two parts
Italian singing and three times the Italian-Jewish Holiday guilt! Internationally-
acclaimed singers, songwriters and Carnegie Hall headliners Will & Anthony.
Nunziata joins Comedy Central comedian Jessica Kirson for a night of music
and comedy like you've never experienced before.
Jessica is the nationally touring tour-de-force comedian who has appeared on The
Tonight Show with Jimmy Fallon, The View, HBO's Crashing and recently
featured in the movie The Comedian with Robert DeNiro. And she just finished
taping her one-hour Comedy Central Special that will be premiering soon.
Will and Anthony bring their trademark lyrical tenor voices and two-part
harmonies to Christmas classics, Italian songs as well as hits from Frank Sinatra,
Frankie Valli and beyond. The brothers are all-around entertainers trained in
improv comedy at the Upright Citizens Brigade in New York City. And you can
catch Anthony in the new Netflix comedy The Last Laugh opposite Chevy Chase
and Richard Dreyfuss.

Bring your friends, bring the family!

"The Italian Jewish Christmas Show!" will make you realize just how crazy your
family is during the Holidays! And tonight, we're all family!


Bios:

Will & Anthony Nunziata are internationally-acclaimed singers,

songwriters and all-around entertainers. The brothers has performed

over 400 concerts over the past few years headlining major performing




arts centers, theaters, and symphony concert halls across the country

and around the world. They recently appeared in the Netflix film "The

Last Laugh" opposite Chevy Chase and Richard Dreyfuss. The

Brooklyn-born, classically trained singers are hailed by Broadwayworld

as "an explosion of entertainment!" They recently headlined Carnegie

Hall for two sold-out concerts with the New York Pops Symphony

Orchestra. The brothers bring their distinct take on classic &

contemporary songs as well as movie-bound original tunes to their live

concerts. They have performed at private events across the United

States and recently in England, Spain, Italy and Singapore. Will &

Anthony studied music, acting and directing at Boston College, and

trained in improv comedy at the famed Upright Citizens Brigade in

New York City. www.willandanthony.com.



Jessica Kirson is a powerhouse on stage. Jessica's act is a hilariously

relatable performance of sheer silliness, vulnerability and ridiculous

characters. Her countless comedic character videos have racked up

over 30 million views on social media. As her friend Dave A`ell says,

"I'd hate to follow her." This year, Jessica will be featured playing

herself on the HBO series Crashing with Pete Holmes. She recently

served as a consultant, producer and writer as well as acted in the

Robert De Niro's film "The Comedian." She has appeared on "The

Tonight Show with Jimmy Fallon", "The View, and "Kevin Can Wait."

She was recently awarded "Best Female Comic" by the MAC

association in New York City and received the prestigious Nightlife

Award for "Best Stand-up Comedian." And in her spare time, Jessica is

a regular contributor to the "Howard Stern Show" where she produces

and stars in prank calls for the program. www.jessicakirson.com